The Online Shopper's Wear it to Work Monday focus on work attire. The styling recommendations are geared towards a professional environment.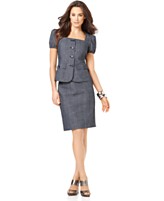 Nine West is expanding into suiting. Traditionally, a shoe and handbag designer, Nine West is a great brand that offers the latest fashion trends at reasonable prices. The Online Shopper always strives to buy "trendy" pieces from reasonably priced brands, like Nine West. Whereas, The Online Shopper is more than willing to spend a few more pennies on the classics like a simple black interview suit, a black pencil skirt, and a trench coat. You know that you will have these classic pieces for years. Think of them as investments.
By way of a trendy look, The Online Shopper found this
Nine West Puff Sleeve Suit
at
Macy's
. Originally $240.00, the suit is marked down to $119.00. Sizes 6, 8, 10 and 12 remain. The Online Shopper appreciates the dark grey color, which is less severe then black, and its feminine shape and puff sleeves. Although with the short, puff sleeves, this look may be less than appropriate for court, it is a great summer suit for a meeting, presentation or for the office (if you work in a professional/corporate environment).